There are many fishing guides and charters to choose from!
Sunrise Cottage Resort
Luxury waterfront cottages on Westlake, heated pool, internet access, boat rentals, boat launch, docking. Two guides on site for Spring and Fall Walleye Fishing Charters on the Bay of Quinte. 1-866-878-5633 for details or visit our website.
West Lake Willows Resort offers 8 waterfront cottage suites featuring satellite tv, high speed internet, and climate control. Walleye, Bass and Pike on West Lake, or a short 10 min drive to the Bay of Quinte. Charters, Guided outings and fishing packages available. Visit our website for more information.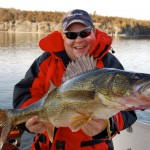 Bay of Quinte Charters
Bay of Quinte Charters offers fully guided fishing charters and or accomodation packages with our state of the art 26' Wooldridge sspilot house charter vessel. The boat offers a large enclosed cabin to keep all our guests comfortable and warm. Operating on arguably the best walleye fishery in the world we work hard to make your time on the water with us a memorable one.
Fish Finder Charters
The Bay of Quinte is one of the top waters in North America for catching TROPHY WALLEYE. It is located off the north east corner of Lake Ontario, one and a half hours east of Toronto and one hour west of the U.S border (Thousand Island Bridge). In the late Spring (May/June) a reverse migration occurs when spawning is completed. To stay on top of this migration we trailer our boat daily. This enables us to launch close to the location of the fish and our clients usually catch an average of 30 walleye per day. Customarily in the Fall fishing (Sept/Nov) season our clients usually land 150-200 walleye over 8 pounds, the largest being 14.5 pounds. In the Fall season of 2006 our clients landed 181 trophy Walleye over 8 pounds; in 2007, our clients landed 123 Walleye over 8 pounds
Musky Charters with Stacy Ash
In the Bay of Quinte area • Professional training • Fully Insured All equipment provided • Fishing out of a fully sponsored Princecraft superpro 198 SC SE
Accommodations - Fishing Charters - Bait Shops - Main Page